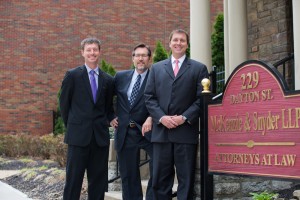 In a recent decision, Jimmison v GCRTA, 8th District, 2013 Ohio 3155, the Court affirmed summary judgment in favor of an employer who argued that records from claimant's treating physicians did not establish sufficient causal connection between diagnosis and workplace injury.
Jimmison alleged that in 2010 he sustained a neck, shoulder and hernia injury at work when he had to catch two heavy televisions that were falling off of a work bench. Apparently Jimmison had also suffered a hernia prior to this alleged incident.
Workplace Injury Causal Connection
Jimmison sought treatment with several providers, and he was taken off work for a period of time. Apparently, little to no discussion about a workplace incident could be found in his treatment records, despite numerous indications of a strain type injury.
Jimmison's workers' compensation claim was denied administratively, and he appealed to common pleas court. When no expert report was timely filed, his employer moved for summary judgment, arguing that the treatment records did not suffice for requisite causal support. The trial court granted said motion and the 8th District affirmed after appeal.
The moral of this case for claimants is to always get a separate causal report from a treating physician(s) and/or independent evaluator. This is of particular importance when the treatment records make little to no mention of a workplace incident, which happens quite regularly.
Unfortunately, many physicians are not familiar with workers' compensation and/or personal injury claims and do a poor job documenting causal relationships. That is, the physician may do a fine job documenting diagnosis (i.e., what is wrong) and treating the problem accordingly, but fail to mention what is or has caused the diagnosis (i.e., where it came from). Without this "causal connection," it is very difficult to conclusively establish a workers' compensation and/or personal injury claim.
For the above reasons, it is often advisable that when one is injured on the job, that he/she seeks care with an experienced physician certified by the Bureau of Workers' Compensation to treat and diagnose workplace injuries.
McKenzie & Snyder LLP specializes in workers' compensation claims in the Greater Cincinnati Area.
"We don't get paid until You get paid!"
---