Can I Claim Punitive Damages in your personal Injury Case?
Under certain circumstances, it may be appropriate to seek "punitive damages" from a defendant in a lawsuit. Such damages are intended to punish the defendant beyond making him/her/it pay for damages that compensate for various losses.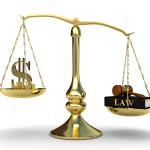 Was the driver driving reckless?
For example, in a car accident case, if a driver causing an accident drives at an excessive speed and weaves in and out of traffic, such behavior may rise to reckless conduct, rather than simple negligence, and punitive damages may be appropriate. Thankfully, such conduct is rather rare and most personal injury lawsuits do not involve reckless or intentional conduct and punitive damages.
Ohio Revised Code 2315.21 establishes that a court should bifurcate or split a trial involving punitive damages into two stages. That is, the jury should hear issues of liability and compensatory damages first, and then, if appropriate, the issue of punitive damages. The Ohio Supreme Court in Havel v. Villa St. Joseph confirmed that this code section offers a substantive right to litigants and is constitutional. The potential for jury confusion was a primary rationale for the court's decision.
McKenzie & Snyder LLP represents injured individuals in personal injury and workers' compensation cases in the Greater Cincinnati, Hamilton, and Dayton Area. Call us today for a free consultation.
There is only a fee if we win
---