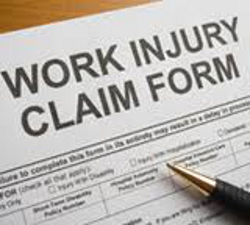 Ohio workers' compensation claims are filed for all kinds of different injuries and diseases. Claims are filed using the First Report of Injury form (FROI) and turning it into the Bureau of Workers' Compensation (BWC). Claims may be filed by an injured worker, employer, workers' compensation lawyer, doctor or managed care organization (MCO).
Ohio Workers' Comp Claim
If the claim is allowed by the BWC or the self insured employer, it will include an ICD-9 code or codes classifying the type of injury or injuries that is/are recognized in the claim. ICD-9 is an acronym standing for "International Classification of Diseases, Ninth Edition."
Here's An Example
For example, say an Ohio employee is injured on the job by getting in an auto accident or car crash while making a work delivery. He suffers significant injury to his neck and back. He is taken by ambulance to the hospital emergency room and x-rays are taken. He has no broken bones or vertebrae and so he is diagnosed with (1) lumbar sprain / strain and (2) cervical (neck) sprain / strain. An Ohio workers' compensation claim is then opened and subsequently allowed for (1) 847.2 (lumbar sprain / strain) and (2) 847.0 (cervical sprain / strain).
The Lumbar Pain Continues
Now imagine his neck and back pain continues for several months and seems to be getting worse. His doctor orders an MRI of both areas of the spine. The MRIs reveal disc herniation / displacement and degenerative disc disease so the claim is then amended to include (3) 722.52 (degeneration of lumbar disc), (4) 722.4 (degeneration of cervical disc), and (5) 722.10 (lumbar intervertebral disc displacement without myelopathy). (The same situation may occur when dealing with shoulder, knee, or ankle injuries, for example.)
It is important for those injured at work to have his / her BWC claim allowed for all of the diagnoses that are a result of the workplace injury. Failure to do so may result in non-payment of medical treatment. For example, say an employee's work comp claim is allowed for a lumbar sprain. Three months after the accident or injury his back problem continues to deteriorate. He hopes to go see a pain management specialist for injections. The injections end up not being paid for because they do not fulfill the "Miller Criteria" for payment of medical treatment. To pass the Miller test, the injured worker would have to prove:
(1) The requested medical services are reasonably related to the industrial injury.
(2) The requested services are reasonably necessary and appropriate for the treatment of the industrial injury (allowed condition).
(3) The costs of the services are medically reasonable.
In the above example, (1) and (3) would likely be met, but to meet (2), the claim would need to be allowed for a more significant diagnosis before the injections would be paid for through workers' compensation (e.g. ICD-9 code: 738.4 Spondylolysis / Spondylolisthesis).
Hiring an Ohio Work Injury Lawyer
Hiring a Ohio workers' compensation attorney who is familiar with claim allowances and additional conditions can help ensure a claim is allowed for the proper diagnoses.
McKenzie & Snyder LLP attorneys have been practicing workers' compensation law in Ohio for 25 years.
"We don't get paid until You get paid!"
---