At the Butler County law firm of McKenzie & Snyder, we understand how difficult it can be to get to lawyer's office. Physical limitations (e.g., low back, shoulder, knee, and ankle injuries), busy schedules, and transportation issues are just a few of the many hurdles people face when trying to schedule a consultation. McKenzie & Snyder makes the consultation process simple and comfortable by offering house calls in Hamilton, Middletown, Fairfield, Monroe, Oxford, West Chester and more…
Meet a Butler County Lawyer at Your Home or a Nearby Location
By meeting a lawyer at your home or a nearby location, the consultation process becomes more personal, and keeps interference with your daily life to a minimum. McKenzie & Snyder is happy to send an experienced personal injury and workers comp (BWC) attorney to meet with you to discuss your legal rights and issues one-on-one in a familiar environment.
Client Feedback Tells Us Our House Call Service is Refreshing
In today's impersonal culture, developing personal relationships is difficult at best. However, if you've been injured in an accident, you deserve a law firm that takes the time to listen to your concerns and develop an individualized strategy for your case. Whether you've been injured in a car wreck, boat or motorcycle accident, work injury, or a bicycle crash, a specific case plan for your injuries can put your mind at ease. Our clients have told us time and time again how much they appreciate our willingness to sit down with them and discuss their legal options on their time and at a location that is convenient for them.
Free Consultation
If you've been injured in the Butler County or the Greater Cincinnati area, use the contact form to the right or call 513-737-5180 to schedule an appointment.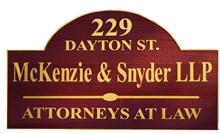 ---